Building and Setback Requirements
These are the primary dwelling requirements for Rose Lake Forest, pursuant to the restrictive covenants, and Osceola County. This document is advisory only. Please read the restrictions and consult with the County building department for more information. Contact a Board of Directors member with any questions.
Every dwelling house shall have not less than 720 square feet of enclosed living space exclusive of porches, breezeways, carports, patios, pool areas, garages and other accessory uses.
Setting of Mobile Homes
Footings - choice of:

Slab - Length and width of unit plus 4" deep with rat-wall 12" below grade.
Runners - 24" wide and 6" deep.
Pads - 24" x 24" x 16" deep - 8 feet on center.

Minimus of 3 tie downs per side. (M.H. over 60' we recommend 4 tie downs.)
Skirt shall be installed within 60 days.
Smoke detector in sleeping areas and fire extinguisher must be installed prior to occupancy. (Fire extinguisher must be A-B-C rated.)
Units manufactured after Nov. 6, 1974 must have State Inspection Plate.
Mobile Home Permit Fees are based on square footage.
Inspections:

Footings - prior to pouring cement.
After setting, prior to occupancy.
If set on basement, additional inspection.
Minimum Setback Examples
Single lot owned by a member, Not on a corner: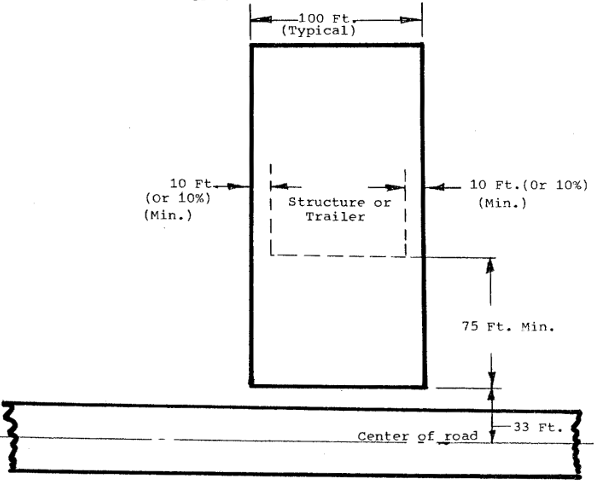 Single lot owned by a member, Corner Lot: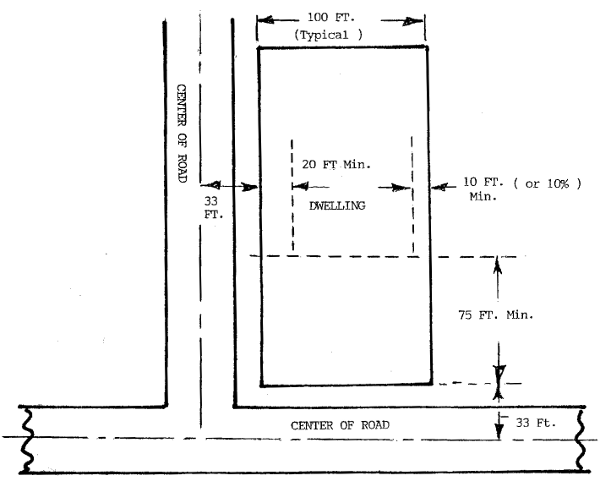 Adjoining lots owned by same member, Not on a corner: